Patients Love Topi-CLICK® Topical Dose Applicators
The Good Things in Life Just CLICK
You know everything is working correctly when it CLICKs. That is the easiest way to tell the difference between Topi-CLICK and every other product on the market. When you are using the best, it CLICKs.
Topi-CLICK was designed with the patient in mind: A simple, effective, convenient method of dispensing topical ointments, creams, gels, and lotions. There are many ways to apply topicals from pumps and syringe dispensers to tubes and jars to finger tips. Only one dispenser provides a clear, audible "CLICK" that is preferred by so many health care professionals: Topi-CLICK.
If you are not using Topi-CLICK brand topical dose applicators, please let your doctor and pharmacist know. You and your health deserve the best.
Peace-of-Mind Dosing™


Because of Topi-CLICK's innovative, easy-to-use design, patients can be confident of receiving an accurate dose first time, every time. It is one of the primary reasons Topi-CLICK continues to grow in popularity with patients, physicians and pharmacists.


.
Click-Assist™ Patient Feedback Technology


CLICK-Assist™

is a feedback system designed to ensure Peace-of-Mind Dosing™.  This unique multi-level system, which provides the patient with visual, auditory and tactile cues, was created to give patients confidence that they are receiving the proper, prescribed dose and to improve compliance. No other topical-dose applicator can match Topi-CLICK for its

attention to detail.



Consistent Dose™
Unlike other topical applicators on the market, Topi-CLICK is not affected by viscosity.  As a result, patients can have confidence that they will not see a fluctuation in prescription amount during the entire treatment regimen. Other types of topical applicators can suffer from "misfires" or other aberrations that can alter the amount of a dose.

.
Built-in Applicator


Unlike other devices that require external devices – or fingertips — to apply topicals, Topi-CLICK® has a built-in applicator.


.


.

The Topi-CLICK® Advantage

:
– Reduces the risk the cross-contamination of medication to loved ones and pets.
– Saves time for application and for clean-up.
– Does not require an external applicator.
– Does not require the often messy disposal of medication after each use.


.



Widest Selection of Colors Available


Topi-CLICKs are available in the widest variety of color options for easy medication differentiation.

More colors and options coming soon.




.



Enhanced Visual Indicators – Increases Patient Satisfaction and Compliance

.
Among the

advantages of

Topi-CLICK®

:


– Refill Assurance with the built-in

REFILL Badge™

.
– Full length volume indicator window.
– Recycle Code molded into the base for proper disposal.
–

Super-CLICKer™

base has built-in alignment markers.


.



Minimal Residue




The smaller the amount of residual left in the device after the prescription regiment has been completed, the better. Topi-CLICKs are designed to leave a minimum amount of residuals,

which limits waste and saves money.

.

 

Viscosity Assurance

™ Thin, Medium and Thick


Unlike pumps and other topical applicator devices, the

Topi-CLICK dosing accuracy is not affected by viscosity, resulting in consistent dosing throughout prescription regiment.


.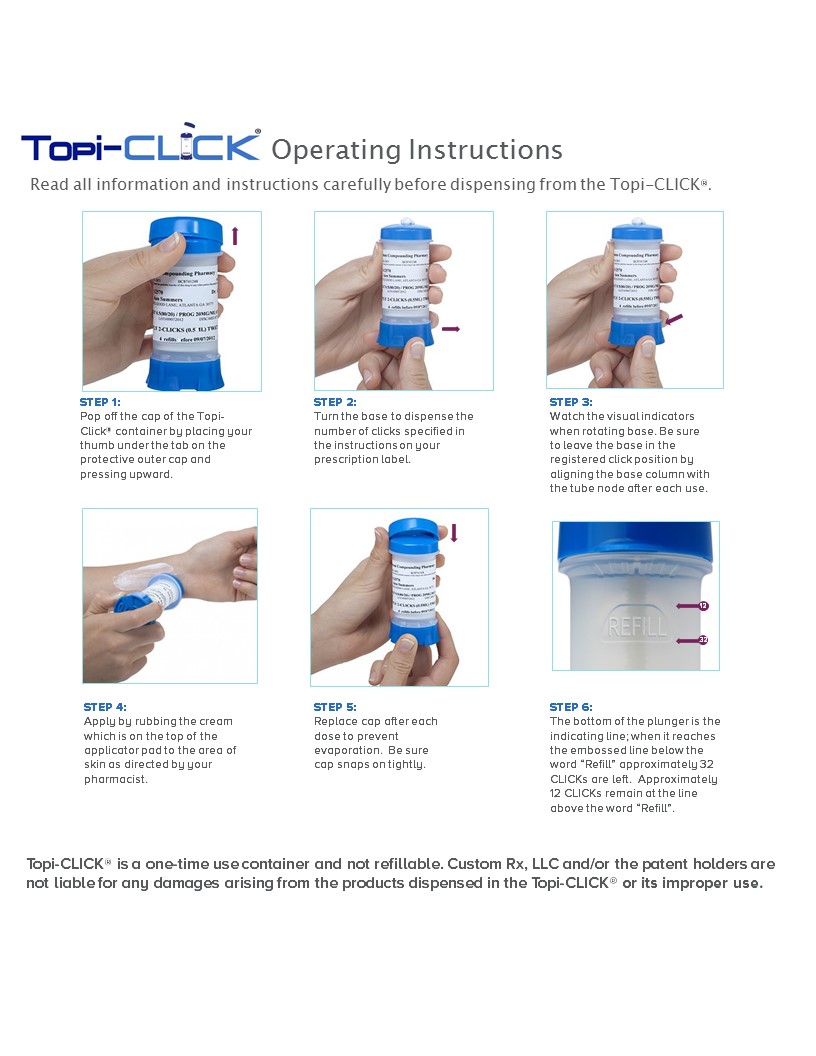 The Topi-CLICK story
Topi-CLICK as easy as 1,2,3
Step-by-step instructions