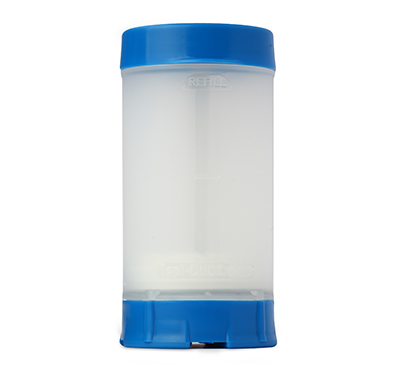 ATLANTA, Ga. – Topi-CLICK®, the industry standard metered-dose applicator for topical creams, ointments and gels, will now be available in a large, new dispenser, DoseLogix has announced. The latest addition to the DoseLogix product line, Topi-CLICK 140, is four times larger than the original Topi-CLICK 35.
The Topi-CLICK 140 holds a maximum of 140 mLs and dispenses topicals at a rate of 0.5 mL/CLICK. DoseLogix's original topical applicator, Topi-CLICK 35, holds a maximum of 35 mLs and dispenses topicals at a rate of 0.25 mL/CLICK. Topi-CLICK 140 is designed to make it more convenient for consumers to apply larger doses of topicals.
"This new product is in response to various requests from healthcare professionals and consumers," said DoseLogix CEO Tim Phipps. "We are constantly looking for ways to improve and expand our line of products. We have been hearing from pharmacists and patients who wanted another version of Topi-CLICK that made it easier to dispense larger doses, such as for pain medication, wound care, hormone replacement therapy or scar care. The new Topi-CLICK 140 is our response. In addition to making it easier to dispense larger doses, it may allow patients to go longer between refills."
DoseLogix, headquartered in Atlanta, Ga., began production of Topi-CLICK in 2007. The topical applicator has experienced steady growth since its inception. Topi-CLICK has been featured on various nationally syndicated cable shows, including: Oprah Winfrey, Dr. Phil, The Doctors and The Suzanne (Somers) Show. It is available across the United States, as well as a rapidly growing list of foreign nations.
No other product on the market offers the simple elegance, patented design and user-friendly "CLICK" of Topi-CLICK. Various healthcare professionals have touted its simplicity, ease-of-use and convenience. The user-friendly design of Topi-CLICK has numerous advantages over traditional syringes, tubes or jars. "CLICK dosing"™ makes it easier to dispense an accurate amount of topical and lessens the risk of unintentional medication transfer by hands.
"It is gratifying to see how enthusiastic people are about Topi-CLICK," Phipps said, "but we are never going to stop looking for ways to innovate and improve. Topi-CLICK 140 is simply our latest effort to meet the needs of health care professionals and consumers. It certainly will not be the last."
For more information, go to: www.topi-click.com.
Media contact: TruVine Communications, LLC, 678-386-8178